The 5th International Urooncology Symposium was held in Baku
10.12.2022
|
Views: 1725
Font size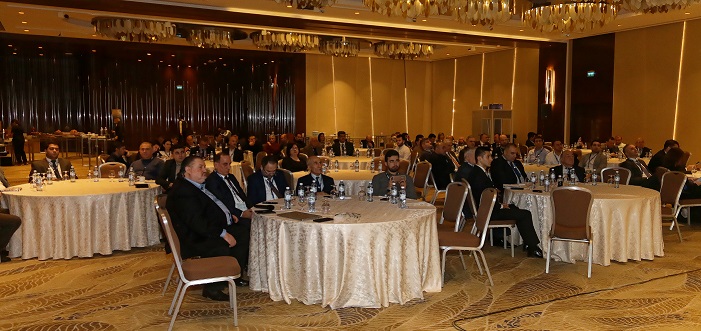 On December 10, the 5th International Urooncology Symposium was held in Baku. The Symposium was organized jointly by the National Center of Oncology of the Ministry of Health of the Republic of Azerbaijan and the Azerbaijan Society of Oncologists.
The International Urooncology Symposium was opened by the Deputy General Director of the National Center of Oncology Dr. Fuad Guliyev, PhD. Dr. Fuad conveyed greetings of Acad. Jamil Aliyev, Director General of the NCO, to the participants and gave detailed information about the activity of the Center. Leading specialists in urooncological diseases from Azerbaijan, Turkey, Germany, Kazakhstan, Uzbekistan and Georgia participated as speakers in the event.
Prof. Dr. Volkan Tugchu (Turkey), Prof. Dr. Axel Heidenreich (Germany), Prof. Dr. David Nikoleishvili (Georgia) and other well-known local and foreign specialist covered different topics on urooncology, such as "Prostate cancer: from early diagnosis to treatment", "Nerve-protective techniques in robotic prostatectomy", "Complicated cases in uro-oncological laparoscopy", "Approach to complications of pelvic surgery", "Approach to diseases occurring after renal transplantation", "Laparoscopic nephroureterectomy: approach to the distal ureter", "Retrograde surgery in upper tract urothelial carcinoma", "Laparoscopic treatment of renal tumors", "Approach to renal cancer with inferior vena cava thrombus", "Results of radical surgical treatment of bladder cancer", "Effectiveness of surgical treatment in localized kidney cancer", "Risk factors of recurrence after radical nephrectomy", "The future of prostate cancer treatment with HIFU method", "Palliative surgery in prostate cancer: New technologies", "HOLEP or TULEP for large prostate?", "Surgical treatment of urethral stricture", "Micro-ultrasound system for target biopsy", "Changes in parenchyma during kidney resection", "Prepubertal testicular tumors" and "Surgical treatment of urethral trauma".
Topical problems of oncology, innovations applied in the treatment of oncological diseases and the importance of scientific and research work done in this field were emphasized during the Symposium.
The event was accredited by the Scientific and Medical Council of the Ministry of Health of the Republic of Azerbaijan.